Jay Jay Mills signs up for $ 4 m Expansion to Trincomalee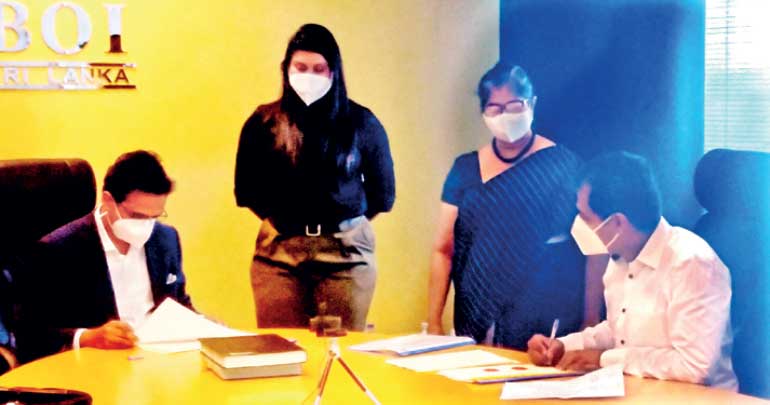 Extends international manufacturing expertise to eastern Sri Lanka
In line with the Government's policy of developing regional industrialisation, the Board of Investment of Sri Lanka (BOI) recently entered into a supplementary agreement with Jay Jay Mills Lanka to lay the foundation to an initial investment of $ 4 million to establish operations in the Kappalthurai Industrial Zone in Trincomalee.

The agreement, which was signed by BOI Chairman Sanjaya Mohottala and Jay Jay Mills Lanka Managing Director B. Srikumar, will boost much-needed economic activity and generate employment opportunity for local communities in eastern Sri Lanka.

A subsidiary of Jay Jay Mills India, this is the fifth expansion project of its kind for Jay Jay Mills Lanka, which was established in 2000.

Located across manufacturing facilities in the Seethawaka Export Processing Zone, Matara Kekanadurra, Moneragala and Mannar, this foray into Trincomalee will enhance its capacity to fulfil requirements of its world-renowned customers such as Tesco, M&S, Mothercare, Gerber, Target, Garan and Walmart, which have contracted Jay Jay Mills to source orders for their global infant apparel category. In addition to its presence in Sri Lanka, its operations are also located in Bangladesh, India and Ethiopia.

Mohottala said: "We are deeply grateful and encouraged by the enterprising strides taken by Jay Jay Mills Lanka to establish operations in territories that require a much-needed infusion of economic activity and technical skills enhancement. Sri Lanka has no shortage of a rich reserve of intelligent talent, which can be tapped across the country.

We are happy therefore to see companies with an international footprint introducing themselves to these communities and investing in their future through gainful employment that will ultimately support the improvement of rural infrastructure and livelihoods.
Reference Link: https://www.ft.lk/front-page/Jay-Jay-Mills-signs-up-for-4-m-expansion-to-Trincomalee/44-722737